Watermelon's chatbot can be taken offline (temporarily). You can disable the chatbot on Facebook, Instagram, the website widget, and WhatsApp. Of course you can re-enable the chatbot at any time, the suggestion bot does remain active after disabling the chatbot, if desired.
---
How do I take the chatbot offline?
At the top of the platform, go to Chatbot.
Choose Activate chatbot
Choose Turn off chatbot the chatbot will be automatically disabled. Don't forget to re-enable the chatbot when it needs to get back to work!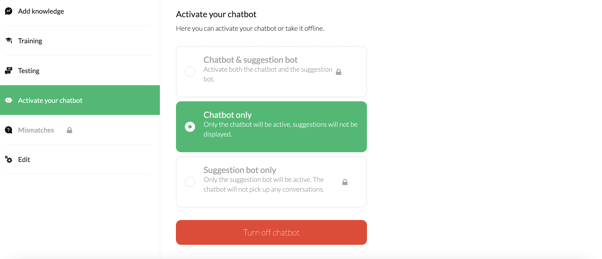 ---
Out of Office Notice
We would like to advise you to set up an out of office message outside of service hours. Your customers will receive this message automatically if they contact you outside of service hours. So the customer knows when he is put through to an employee, that he will not be helped at that moment.
The chatbot naturally helps the customer outside of office hours. It just keeps on going!
In the upper right corner of the platform, go to settings
Choose Out of office Message at the bottom
Type an out off office message
Set the times when you will be present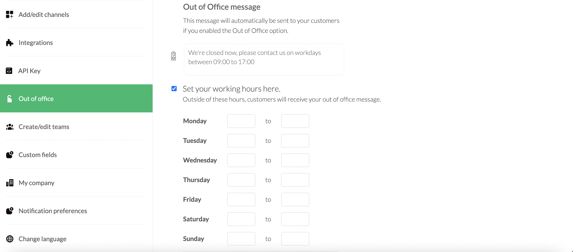 For example, you can ask for personal data here so that you can contact the customer later. You can set this up as you wish!
---