When you set an out-of-office message, your customers will receive an automatic notification if you are not there. In this article, we explain how to set this up in your Watermelon platform.
How do I set up the out of office message?
In the platform at the top right, go to Settings.
Choose Out of office in the menu on the left.
Enter the message your customers will receive when they contact you outside working hours. Enter the working hours here so that a customer knows when he can try again.
Set the times between which you will be present. You can adjust this per day.
Click on Save.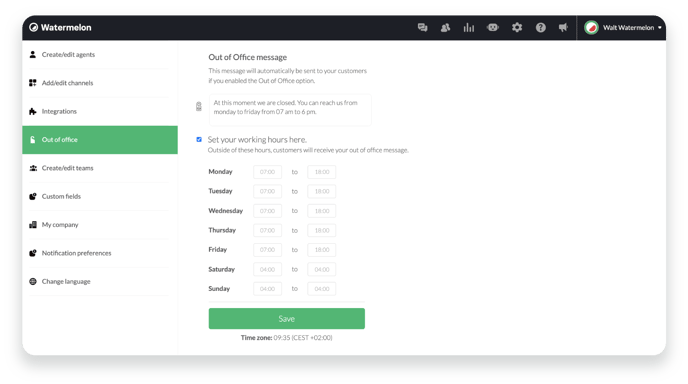 Do you have a chatbot?
The chatbot also answers questions from your customers outside office hours! When a chatbot has not yet learned a question, the conversation is forwarded to an employee. The customer will then see an out-of-office message with your office hours and know that his question will be dealt with later.
Note: If you are absent for a whole day, you can enter a from/to time that is equal to each other. For example from 00:00 to 00:00.