In this article, you will find all the information you need to use custom fields within Watermelon.
What is a custom field?
A custom field is a piece of information that is linked to a customer profile, also known as a contact. There are different types of custom fields that you can collect under a customer profile, for example:
First Name
Last name
E-mail
Phone number
Company Name
Order number
The great thing about this is that you can determine this data yourself. The chatbot can display these custom fields as an invisible input field in a conversation. You can find out how to use these custom fields in the chatbot builder here.
How do you create a new custom field?
To create or change custom fields, go to Settings > Custom fields in the Watermelon platform.


For each custom field, you indicate which icon, which name, and which type it should contain. You also indicate whether a custom field is unique or not. We will briefly explain what it entails.
Icon
With an icon you indicate which data is collected in the custom field. The selected icons will also be visible in the customer profile. By adding an icon to the field you can see at a glance which data is being displayed. In this way, you ensure an overview and you can quickly find the user's data.
Name
To distinguish between the fields, you can add a name to each custom field, so you and your colleagues know exactly what data is collected in this field.
Type
Of course, the chatbot does not automatically know which data is in which custom field. You will have to help him by indicating the type. You can choose from the following types of data: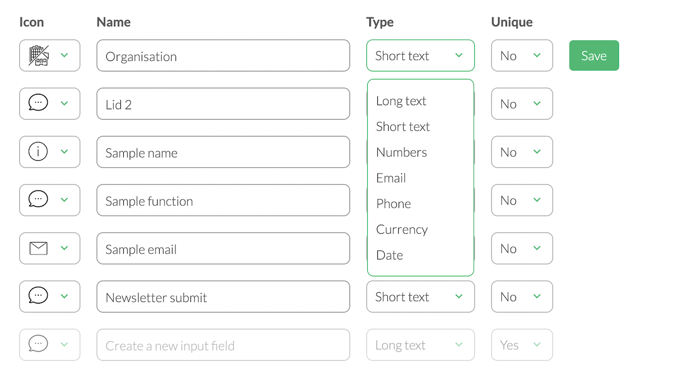 Long text
For example, if you want to collect a complaint description, it is important that you set the field type to "Long text". In this way, the chatbot can check whether the correct data has been entered and whether sufficient information has been collected.
Short text
If you want to collect a first name, last name, company name, or address, use the type field "Short text". In this way, the chatbot checks whether incorrect data, such as excessively long texts, has been entered.
Numbers
When you choose the option "numbers", it is only possible for the customer to enter numbers in the field.
E-mail
When you choose the "email" option, the chatbot checks whether an email address has actually been entered. This can be recognized by an @.
Phone
When selecting "telephone" it is only possible to enter a telephone number.
Currency
With currency, you can choose which currency is entered. Only amounts can be entered, with 2 digits after the decimal point.
Date
At "Date" you can only enter a date based on day/month/year or day-month-year.
Unique
Unique fields distinguish between the different contact persons. Marking a field as unique prevents duplicate contacts/customer profiles from being created. A unique field could be a file number, customer number, e-mail address, or telephone number of a contact person. Within the custom fields, you determine which fields are unique and how you can recognise a customer. If you do not use unique fields, you may get duplicate contacts in your contact overview, this is what you want to avoid.
Note: First name, Last name, Email, and Phone number are mandatory fields that are always available in a contact. Email addresses and telephone numbers are always unique. This cannot be changed.