It may happen that you would like to see a feature and report it to our product team. This can be done via our feedback page. In this article we explain how.
Log in to Watermelon.
Navigate to the upper right corner and click 'Help'.
Select Feedback in the dropdown menu.
Check if your product idea is already listed. In the search bar at the top right you can easily search for terms like "images".
Our feedback platform is for all our users, so we ask you to communicate in English as much as possible.
Is your feature request already listed?
Then please add yourself to the feature request. You can add yourself by clicking on the up arrow to the left of the title. You will now be added as a "voter" to the feature request.
Do you want to add a comment to the feature request? Then add a comment.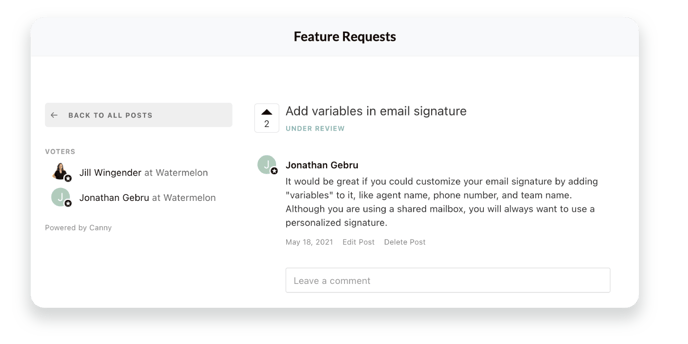 When you add yourself as a voter to a ticket, you will receive notifications about the feature request via mail. The same goes for adding a comment.
Want to submit a new feature request?
Start by entering your product idea under "Create a request".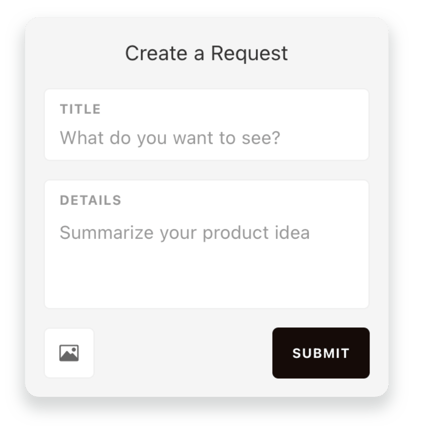 The title
Enter the title of your product idea here. Keep this short and clear. An example would be "Adding pictures and hyperlinks in a chat".
Details
Explain what you mean by your product idea and what you would like it to look like. An example is: "It would be nice to have a feature that allows me to send a picture or hyperlink in a live chat".
Add files
By clicking on the image icon, you can share an image. Add examples of what your product idea looks like.
Keep an eye on your email!
Now that your product idea has been submitted, our Product Manager will process it. You will receive an email when the status of your product idea changes. The following statuses are available::
Open: your feature request has been submitted and is visible on our feedback platform. The support team will check if they have enough information to forward the feature request to the product team.
Under review: your feature request has been forwarded to the product team.
Planned: our product manager has scheduled your feature request to be resolved.
In progress: our development team is working on your feature request right now.
Completed: your feature request is added!
Curious about an overview of all our developments? Check out our roadmap.
An overview of all the recent developments? Check out the changelog here.