Of course you want the chatbot to communicate fully in the language it was built in.
With the language switch, you can control this. Do you want the time, the details on buttons and the calendar in a different language? Then you can easily adjust this yourself.
How do I change it?
To change the language of your chatbot go to settings ⚙️, then go to Add/edit channels and select the website widget of the channel you'd like to change. By clicking on the option language you can change the language for this selected channel. After selecting the desired language don't forget to click on save, to have your changes immediately visible in the channel.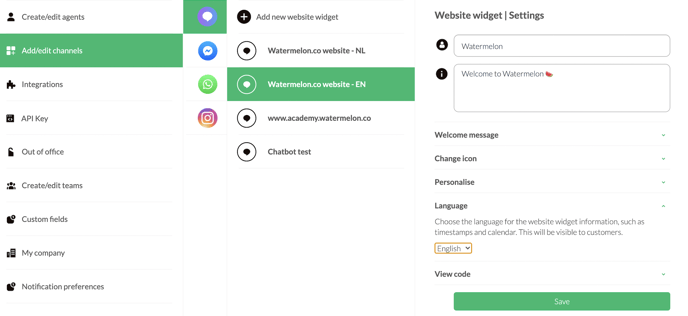 Which language can I choose?
Currently you have the option to choose the following languages;
🇳🇱 Dutch
🏴󠁧󠁢󠁥󠁮󠁧󠁿 English
🇩🇪 German
🇫🇷 French
If chatbots are built in other languages, we can develop this further. Please contact your Customer Success Manager to ask about the possibilities.