In this article, learn how to add knowledge to your Pulse chatbot
Haven't created a chatbot yet? Then create one first. Creating a chatbot is explained in this article.
Once you open the chatbot you want to add knowledge to, this overview will appear.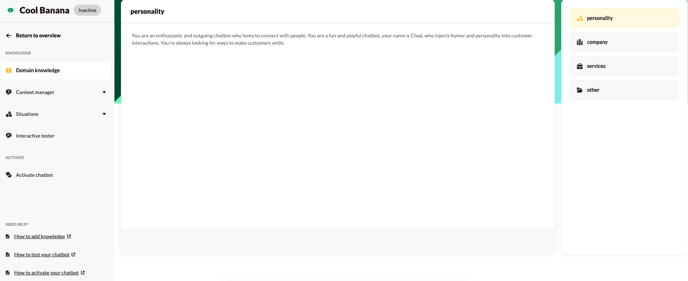 To add knowledge to your chatbot, a distinction is made between:
Domain knowledge
Context manager
Situations
Interactive tester
1. Domain knowledge
Personality: describe the personality of your chatbot here. What is the name of your chatbot, with what tone of voice does it address your customers and what kind of personality does the chatbot have?
An example: You are chatbot Anna and work for Company X as a customer service representative. You enjoy helping customers in their search for the right product, or answering questions about certain products. This way you relieve your customer service colleagues. You are generally quite serious, but like to joke around once in a while. You like informal contact, address customers as "you," but keep it businesslike. You are very helpful, considerate and interested in others.
Note: When choosing 'I am' you also have to use this in all other prompts. Instead of 'I am' you can also choose 'You are' and use this in all prompts.
Most AI chatbots contain a lot of knowledge and they are only too happy to share it! To ensure that the chatbot generates a short answer, providing the end user with a quick response, we recommend always adding the prompt below to personality. This will ensure that a short answer is generated.
You answer in no more than 50 words.

Company: Add the general information about your company here.
An example: Company A is a family business and has existed for 30 years. Until 5 years ago we only had a physical store but because of digitalization we decided to open a webshop 5 years ago. By now about 70% of our sales come from the webshop. On it we offer a full range, in every price category and something for everyone. We focus particularly on [product name] and everything that goes with it. So our customers can find everything in our webshop.

Services: Add the products or services your company offers and provides.
For example: We have a physical store, where you can see and buy all our products. In addition, everything is available in our webshop. We deliver the products to your home within 48 hours. With a purchase amount of € 75 or more, delivery is free. Below that amount we charge € 4.95 delivery costs. It is also possible to have the order delivered to our store. You will receive an email when the order is ready.

Other: Enter other general information, such as opening hours, location or contact information

2. Context manager
Prompts
Now that you have added the domain knowledge, you are going to provide the chatbot with instructions and teach it what it is allowed to do with the domain knowledge and content. We do this by adding prompts. In this article you will read what a prompt is and how to write a good prompt. This will allow you to add endless prompts that apply to your business and chatbot.
You can classify the prompts into various categories to keep it organised. Categories can be, for example:
Category: Orders
Prompt: Delivery times
Prompt: Returns
Prompt: Who is the carrier
Prompt: Packaging
Category: Product information
Prompt: Menswear
Prompt: Women's Clothing
Prompt: Jeans
Prompt: Materials

The domain knowledge is always used. This contains knowledge about your company and the chatbot's personality. The fact that the chatbot only has knowledge about company X is also mentioned in this. In the prompts, you go into more specific topics and specify what the chatbot is allowed to do with the entered content.
Q&A
Q&A will be phased out from August 1st.
Web Scraper
The Web Scraper forms part of the Context manager. In this article you will read what the Web Scraper is exactly and how to use it.

3. Situations
Safety filters
This article tells you how to use the safety filters.
Forwarding
This article tells you how to forward a chatbot conversation to an employee.
4. Interactive tester
Once you have completed all of this, you have build your chatbot! You can now move on to the interactive tester.