As an administrator, you can create a team in the Watermelon dashboard. You can read how to do this in this article.
Once you are logged in to the Watermelon platform, you can take this tour that guides you through creating a team. You can also follow the instructions below if you prefer:

You can create a team in the Settings of your dashboard. In settings you will find the option Create/edit teams. When you click on this, you can create a team via Create new team.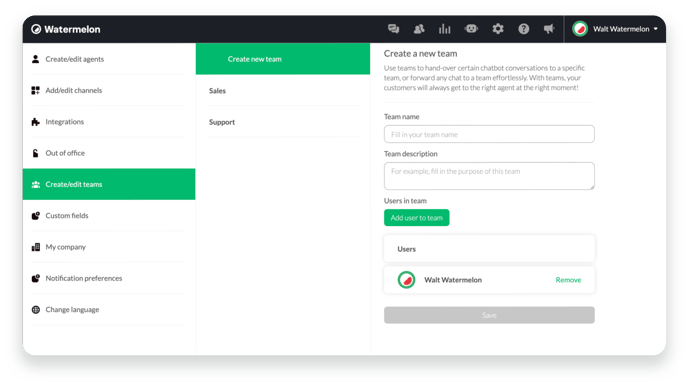 When you are adding a new team, you must enter a Team name first. This name is used in the conversation summary to make it clear which teams you use.

In the Team description, you fill in a short summary of what this team does. If you have created multiple teams, you can read here what the team is doing.

Finally, you choose which users you want to add to the team. By default you will be added to the team, as there must be at least 1 user in a team.

Click on add user to team and check which colleagues you want to add to the team. Click on add users.

Once you have filled in all the information, click on Save and you have created your new team!
Note: there is no limit to the number of teams you can create. So you can make as many as you want!