After designing, testing and activating the conversation, of course you want to know how customers are using it.
Does the customer drop out quickly? Which path is chosen most? Are all paths being used or are there any unnecessary buttons?
These questions will be answered when you export a conversation!
---
Exporting a conversation
Go to the top of the black bar and look for the statistics button.
This will bring you to the following screen:

In the top center you will find the buttons to set a time interval. You can choose the standard time intervals but you can also adjust the data yourself.
To export the conversations click on the button; Exporting conversations.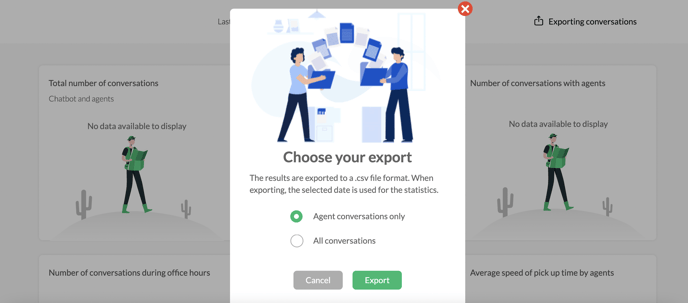 You will then arrive at the following screen. Here you can choose between all conversations, including those with the chatbot. Or if you go for an agent only you will get all conversations with an employee.
Click on the Export button to download the overview.